Date: Jun 09, 2021
Posted By: Ryan Mccormick


Wedding bells will ring out loud once more in the Grande family.

Ariana Grandes older brother Frankie is engaged to his boyfriend of two years, Hale Leon.

Ari was quick to congratulate her bro and his beau. "I love you both so much, she wrote in Instagram Stories. "Congratulations to two of the most incredible men I know."

Frankie, 38, is a dancer, actor, singer and activist who has enjoyed stints on Broadway with Rock of Ages and in Mamma Mia! Leon, 28, is a model and social media influencer.

According to People, Frankie dropped the big question Tuesday night with a wild VR presentation at the site of one of their first dates, the Dreamscape venue in Los Angeles.

It was such a perfect, beautiful moment, Grande he told the title. Hale was completely surprised and we both started crying tears of joy. I have been working on proposing to him in virtual reality for over a year and it was absolutely breathtaking for us both.

Just last month, Ariana married Dalton Gomez in an intimate ceremony. The pair had started dating in early 2020 and shared their engagement news in December with a series of photos Grande captioned forever n then some.




Date: Jun 02, 2021
Posted By: Roula Lynch


First he took a pill in Ibiza. Now Mike Posner has climbed Mount Everest, for a good cause.

The Detroit artist flexed his adventurer skills by scaling the summit of the worlds highest mountain, and, importantly, making the return journey.

Early Tuesday (June 1), Posner and his team mates Dawa Chirring Sherpa, Jon Kedrowski and Dawa Dorje Sherpa reached the top of the world, posing for snaps and remarking, That's what I call a sunrise."

Posner kept his followers updated on social media. We are now back at camp 2 but not out of the woods until we descend to base camp tomorrow am. Please keep us in your prayers, reads his most recent tweet.

The trek was years in the planning, and saw the Grammy-nominated singer devote much of 2020 to intensive high altitude training in Colorado.

Posner is raising money via corporate sponsors and a GoFundMe page for The Detroit Justice Center (DJC), a non-profit law firm working alongside communities to create economic opportunities, transform the justice system, and promote equitable and just cities.

At the time of writing, Posners fundraiser had raked in 223,619 of the 250,000 goal.

Speaking ahead of his peak feat, Posner explained, "While my walk across America was about me finding myself, I want my climb to be about others. He continued, Before my dad died (in 2017), he was a criminal defense attorney in Detroit for 40 years. I've decided to dedicate my climb to the Detroit Justice Center because they're doing criminal justice reform work in my city that would make my dad beam with joy."

Its not the first time Posner has reached a summit. His 2016 hit I Took a Pill In Ibiza reached No. 1 on the Official U.K. Singles Chart, and stayed there four weeks.

Last month, Posner released the new song "Jealousy" (Arista Records) a collaboration with blackbear, written alongside Mat Musto and Justin Bieber and produced by RetroFuture.




Date: May 21, 2021
Posted By: Leila Anderson


Join Us With David Guetta!!! Starting at 3pm - 6pm!!

David Guetta Takeover the Drive At Five today!!!!

If you miss this, we will be replaying May 22, 2021 at 3pm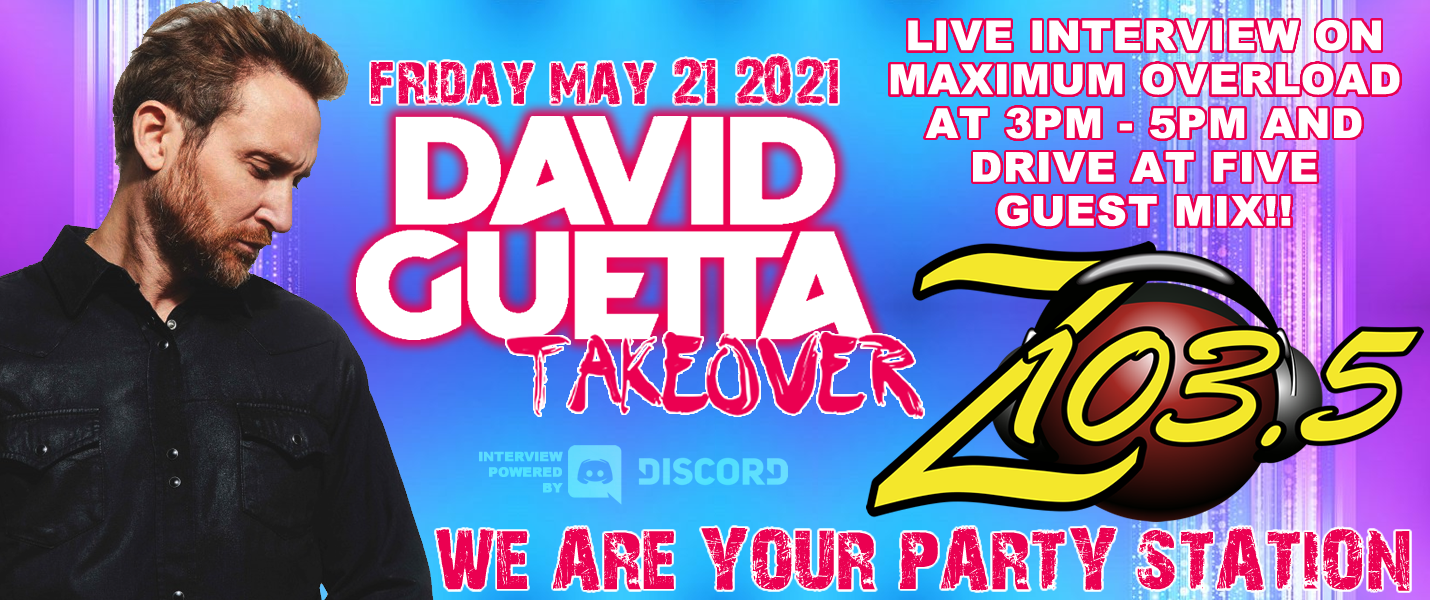 Date: May 18, 2021
Posted By: Cordell Winstead


Liv Nervo, one half of the NERVO sisters, recently revealed in an interview that the Australian duo was in motion to complete a decade-old Avicii collaboration called Let Me Show You Love (Dont Give Up On Us). But due to rights holdings, she tells Billboard, the project in motion appears to be more a remake of the song than a release of the known version, and will not include any of Aviciis contributions.

It's a completely new track, Liv Nervo says. None of Tims chords or parts are being used."

This explanation adds context to a May 8 interview between Liv Nervo and Mexico-based DJ and journalist Trino Treviño, who asked about plans for the old Avicii collabs release.

Liz Nervo confirmed that the duo -- she and her sister Mim -- are currently working on Let Me Show You Love (Dont Give Up On Us), noting that the, Were still working on the production, because we cant get it right. Its really difficult to get right, but its going to be amazing though.

She continued by noting that theres so much pressure involved in regards to working on a record with so much history.

A representative of the Avicii estate tells Billboard that the song in question is absolutely not an Avicii track and has not been approved for release by the late producers estate. A representative for NERVO confirms that the duo owns the songs topline lyrics and melody, which they wrote for Avicii, while the Avicii estate retains ownership of the underlying composition.

"It isn't an Avicii collab, Liv Nervo explains to Billboard, because his family won't allow us so, we're just remaking an old song we wrote which Tim did a track to. He called it Enough Is Enough, but the original song is called Let Me Show You Love."

Bootleg versions of the urgently bombastic EDM track exist under both names online, with a video of Avicii performing the song at Tomorrowland 2011 listed under Enough Is Enough (Let Me Show You Love). Both Liv and Mim Nervo can be seen singing along in the video.

The Avicii estate has previously confirmed that there is a large amount of unreleased Avicii music, although whether or not it will ever be released remains to be seen. The work on the 2019 posthumous Avicii album, Tim, was completed by several of producers closest collaborators who had been involved with the making of the music before the artist born Tim Bergling committed suicide on April 20, 2018.

I get sad every time I work on it, Liv Nervo continued in the May 8 interview with Treviño, because to think what happened to him and what a genius he was -- I wish he was alive and we could release it together.

NERVOs representative adds that Let Me Show You Love (Dont Give Up On Us) will be a NERVO release at some point in the future yet to be determined.




Date: May 11, 2021
Posted By: Leila Anderson


With Covid-19 Restrictions still in effect across the country, we are planning for one epic virtual party this May Long Weekend!! We are starting the long weekend off with a live interview with the one and only David Guetta!!!

Friday May 21, 2021
- Maximum Overload: Interview With David Guetta 3pm - 5pm
- Drive At Five: David Guetta Takeover One Hour Commercial Free Mix 5pm - 6pm
- Live To Air: DJ Spinderella, Roula And Stefan 9pm - Midnight - Brought to you by Bud Light!


Saturday May 22, 2021
- Replay - Maximum Overload: Interview With David Guetta 3pm - 5pm
- Replay - Drive At Five: David Guetta Takeover One Hour Commercial Free Mix 5pm - 6pm
- Live To Air: DJ Spinderella, Kiera And Ryker 9pm - 1am - Brought to you by Bud Light!


Sunday May 23, 2021
- Live To Air: DJ Spinderella, Amara And Ryan 9pm - Midnight - Brought to you by Bud Light!


Please social distancing and follow Covid-19 Health Orders In Your Area!!!!!

A Special thanks to our sponsor Bud Light The Official Party Beer Of Z103.5 And To David Guetta For Taking Time To Talk With Us And Taking Over Our Drive At Five!!!!!!