Date: Aug 04, 2021
Posted By: Amara Banks


Dont go knockin on Britney Spears bathroom door unless you intend on breaking it down and rescuing her.

The pop superstar shared the craziest late-night tale of when she tried taking a bath at 2 a.m. ... and accidentally locked herself in the bathroom. She spared no detail in the caption of her Instagram post from Tuesday (Aug. 3) which, indeed, eventually reveals the happy ending of how she was finally freed.

After glancing over at her gross leftover coffee from earlier that morning (key detail here, folks), Spears was ready to make her way to the other bathroom in search of her face wash. Then I went to leave and the door was locked, the Oops!...I Did It Again singer wrote. I thought ok well it's a bathroom, I can open the damn door … no, the lock was stuck !!!! I got locked in the f---ing bathroom and my boyfriend was sleeping.

She yelled out for her boyfriend Sam Asghari -- whom she claimed can sleep through earthquakes -- four times before he eventually got up and asked what the issue was. Although his trusty pen didnt do the trick in unlocking the door, the 39-year-old singer eventually called her security to get her out.

I cleaned the bathroom and thought about taking a shower or something but then I saw it … the door … I just looked at it for the first time with a yearning of just wanting it to open … would my eyes trick me and make it happen faster ??? she pondered further down the caption. My eyes widened and the door was more clear … more vast … I could see it with clarity and brightness … please open door !!!!

Her exhaustion seemed to be catching up to her in the moment, but Spears praised the stale bathroom coffee that re-energized her and helped her regain the stamina she needed to wait the extra 45 minutes it took for her security detail to rescue her from the bathroom.




Date: Jul 31, 2021
Posted By: Leila Anderson


As COVID-19 Restriction are being reduced, Z103.5 has partnered up with our long time sponsor BudLight to create a brand new experience! As usual DJ Spinderella takes to the airwaves, she creates an epic virtual party that can be heard world wide!!

We will be LIVE from Mystica Nightclub on August 7, 2021 at 9PM til Midnight! Catch DJ Spinderella live every Saturday only on Your Party Station Z103.5

Brought To You By BudLight The official party beer of Z103.5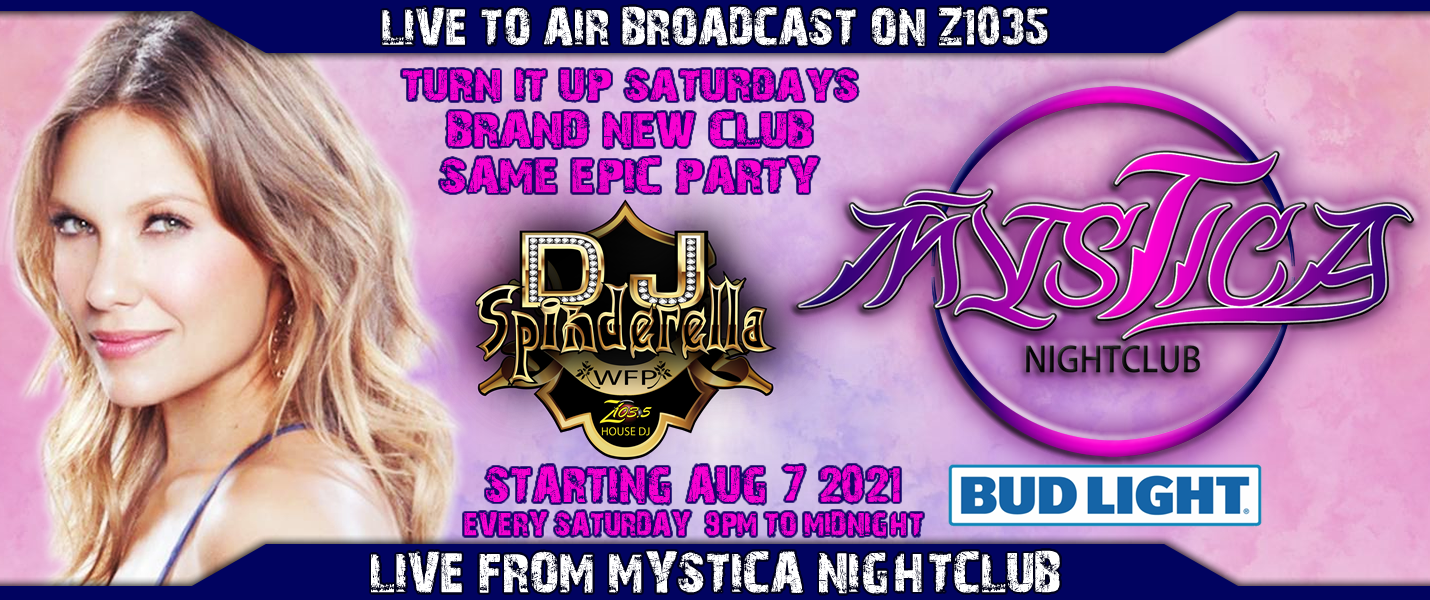 Date: Jul 22, 2021
Posted By: Kiera Duval


David Guetta gathers his landmark 30th top 10 on Billboards DanceMix Show Airplay chart (dated July 24), as Heartbreak Anthem, with Galantis and Little Mix, leaps from No. 16 to No. 6. The achievement extends Guettas lead for the most top 10s among all acts dating to the charts August 2003 inception. Rihanna follows with 24.

Heartbreak, the seventh top 10 for Galantis and first for Little Mix, is drawing leading core-dance airplay at Music Choices DanceEDM channel, KMVQ-HD2 San Francisco and iHeartRadios Evolution Network, according to MRC Data. (The DanceMix Show Airplay chart measures radio airplay on a select group of full-time dance stations, along with plays during mix shows on nearly 80 top 40-formatted reporters.)

Meanwhile, the track surges 16-8 on the DanceElectronic Streaming Songs chart, marking Guettas sixth top 10, Galantis third and Little Mixs first. Heartbreak earned 3.2 million U.S. streams, up 33, in the tracking week ending July 15. (Tchamis remix, released July 15, added to the songs activity.)

On DanceElectronic Digital Song Sales, Heartbreak became Guettas 39th top 10 upon its debut (No. 5, May 29). That sum also leads all acts, with Kygo next (30) since the chart began in 2010.

In other Guetta news, his track Hero, with Afrojack, hits a new high on the multi-metric Hot DanceElectronic Songs chart (48-22). Following the July 9 release of remixes by Nicky Romero and others, it spiked by 162 to 511,000 U.S. streams. The song reached No. 3 on DanceMix Show Airplay.

Additionally on DanceMix Show Airplay, Zara Larsson lands her third top 10 with Right Here (14-9). Plus, Shouse, spurred by a remix by none other than Guetta, scores its first top 10 with Love Tonight (17-10). The latter also rises to new heights on DanceElectronic Digital Song Sales (6-4) and Hot DanceElectronic Songs (15-12).




Date: Jul 06, 2021
Posted By: Cordell Winstead


He was first introduced to a 13-year-old Spears in 1995 and secured her first record deal with Jive Records two years later. Britney Spears' long-time manager Larry Rudolph who guided and shaped her career for over 25 years has resigned amid reports she has retired from music. The BBC is reporting that Rudolph sent a letter to Spears' co-conservators Jamie Spears and the court-appointed Jodi Montgomery, Rudolph writes that "It has been over 2 12 years since Britney and I last communicated, at which time she informed me she wanted to take an indefinite work hiatus. Earlier today, I became aware that Britney had been voicing her intention to officially retire."

He adds, "I believe it is in Britney's best interest for me to resign from her team as my professional services are no longer needed."

Deadline was first to report the news of Rudolph's resignation as Spears' manager. The news of Rudolph's resignation is the latest dramatic development in Spears' attempts to end her conservatorship, which for 13 years has seen her conservators, who include her father, Jamie Spears, controlling many important aspects of her life including her finances, her relationships with other people and personal decisions about her health. In a now-infamous June 23rd court hearing, Spears told the judge overseeing the arrangement of her conservatorship that Jamie Spears and others including Rudolph, although he was not directly named, "should be in jail."

"The people who did this to me should not get away," Spears said to the judge, adding, "Ma'am, my dad, and anyone involved in this conservatorship, and my management, who played a huge role in punishing me when I said no Ma'am, they should be in jail." Rudolph was first introduced to Britney Spears, then 13, in 1995 and secured her first record deal with Jive Records two years later. At times the former entertainment lawyer worked as both Spears' manager and legal representative in notable deals such as her fragrance deal which would go on to make hundreds of millions in sales.

Spears left Rudolph's Reign Deer Entertainment in 2004 but returned in 2007 at the behest of her father Jamie according to a New Yorker report. Through Reign Deer, Rudolph has also managed Miley Cyrus, Justin Timberlake, Avril Lavigne, Backstreet Boys, Toni Braxton, will.i.am, Nicole Scherzinger and the late DMX.




Date: Jul 03, 2021
Posted By: Ryker Barnette


Bebe Rexha is using all of herself to promote body positivity.

The singer posted a video of herself wearing what appeared to be blue lingerie while the 2018 Nicki Minaj song Good Form played on Rexhas verified TikTok account.

How much do you think I weigh?, flashes across the screen while Rexha shows off her curves. No ones business. She then acknowledges that she is a hottie, regardless, before the sentence But lets normalize 165 lbs appears.

Its not the first time the 31-year-old artist has embraced her figure. In November she posted a video of herself in a one-piece bathing suit on her Instagram story after spotting what she considered to be unflattering paparazzi photos of herself.

Rexha showed off her stretch marks and cellulite in the video. Im trying to be healthy and respect what God gave me, People reported her as saying. And I like to eat and I also take medicine that makes it really hard for me to lose weight.